Biofeedback CapnoTrainer
Why breathing patterns is so important?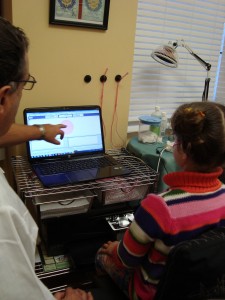 The process of breathing not only allows us to live, it also regulates the chemical processes in our body. When you're not breathing properly it disturbs the biochemical balance, causing a variety of conditions, both physical and emotional. Return to proper breathing techniques balances your chemicals and allows your body to function normally, thus removing the cause of many diseases.
Benefits of CapnoTrainer diagnostics
Biofeedback CapnoTrainer instrument was based on the teachings of professor Buteyko, whose revolutionary breathing program helped thousands improve their overall health. It analyzes your breathing in search of patterns and irregularities. It will help you recognize your bad breathing habits and then replace them with good ones.
What next?
The diagnostic consultation is held by Advanced Buteyko Method Practitioner-Auditor Genady Gorohovsky, B.Sc., R.Ac., the assistant of professor Buteyko. Genady will help you understand your breathing patterns and then suggest ways to improve them.