Quantum Magnetic Resonance Analyzer – am I healthy?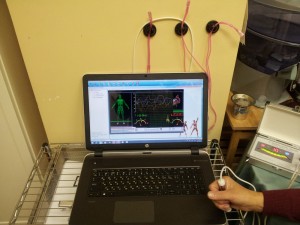 QMRA is a non-invasive spectral testing method that allows for multiple health indicators to be obtained accurately in a matter of minutes. It will give you an overall sense of your health state.
How it works?
In principle, QMRA is not much different than more common medical diagnostic techniques such as ultrasonic or radiography. As they grow and divide, human cells constantly radiate electromagnetic waves. The frequencies of these waves tell us a lot about the state of your body, including health, sub-health and disease states. Your individual QMRA readings are loaded into a comprehensive database and compared to a large number of clinical cases, leading to high accuracy. For instance, QMRA can give us a reading of your cholesterol levels without actually taking a blood sample.
Analysis and reports
Quantum Magnetic Resonance Analyzer checks for over 30 different health indicators, like blood sugar, gastrointestinal system, kidneys, cholesterol levels, etc., providing you with the most complete analysis of your overall health state.
What next?
The diagnostic consultation is held by Genady Gorohovsky, a Registered Acupuncturist with Physiotherapy background. Genady will help you understand the results and provide you with suggestions on how to improve your health. You will also receive the full written report.