Digital Meridian System Diagnostic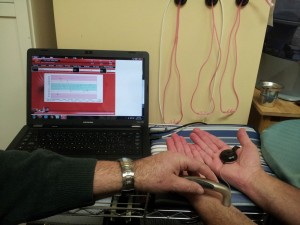 What is DMS?
DMS combines the traditional Chinese medicine with modern day technology. It detects and records your life energy, or your Qi, in certain acupuncture spots on your extremities. It's a safe, non-invasive way to get a full check up that will reveal everything from your cholesterol levels index to all your other acute and chronic conditions.
How it works?
DMS employs an electronic digital meridian sensor attached to a computer to measure the meridian energy values of your Qi. Once completed, these readings are uploaded to the remote DMS data server, where it is compared and analyzed against a millions of clinical records.
Analysis and reports
After your Qi readings are compared and analyzed, you will get a full and comprehensive overview of your Qi energy level and your overall physical and mental state. The report covers a wide variety of your bodily functions, giving you a complete picture of your health state. With an accuracy rate of up to 90%, it is great for early detection of diseases.
What next?
The diagnostic consultation is held by Genady Gorohovsky, a Registered Acupuncturist with Physiotherapy background. Genady will help you understand your readings and provide you with suggestions on how to improve your health. You will also receive the full written report.
To book your diagnostic consultation with Genady Gorohovsky call 416.419.5407 or 416.894.6733. Or simply leave us a message on the website!